Jack's Male Tickling Rack
| | | |
| --- | --- | --- |
| Revenge | | Tickling |
---




It's payback time...




Has some bully been bugging you?

Have you caught some creep breaking into your apartment?

Is your roommate really obnoxious?

Are you pissed at a pal who has just tickled the crap out of you?




Don't get mad . . . GET EVEN.



The following excellent stories center around REVENGE. They might give you a few ideas:




The classic story of how to get even with a burgler caught in the act. Presented here in it's entirity, including the epilogue by Kitelcat.



An obnoxious Frat Brother roommate learns a lesson in respect. (Includes "denial" torture, anal play.)



An inspired story of revenge. Two ranch hands, who also perform certain S/M acts for the boss, devise a clever way to get even with the new hired hand, a slacker who needs to be taught a lesson.



How to get even with a cocky buddy who keeps sticking his big, stinkin' feet in your face while you're trying to watch the game.



The R.A. of a college dorm masterminds an elaborate pay-back for a loathsome prankster.



On the hottest day of the summer, a "problem" lifeguard gets what's coming to him during a long, hot night on the beach.



A terrific story about scoring some revenge and humiliation on an obnoxious high school bully.



From an unexpected encounter in an auto repair shop, to a rendevous in a bedroom. An answered ad results in a double-payback with a handsome stranger.



A tennis pro, who can't keep his hands to himself, gets a surprise visit from a Revenge Squad. Intense tickle-punishment, including "denial" torture, might make him promise to behave.



A true story (unfortunately) about two basketball teammates exacting some brutal revenge in a deserted locker room.



Turned tables: a straight guy catches his gay roommate sniffing his socks and shoes, and tries to punish and humiliate him with his feet. Instead, he ends up in an unusual predicament.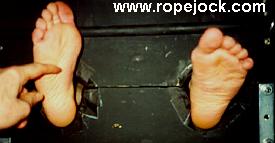 ---
If you enjoy the authors' work, drop them a line.
They would love to hear from you!
---
e-mail: webmaster@ropejock.com
www.ropejock.com