Jack's Male Tickling Rack
---
Let the games begin!



Preliminary tickle-endurance challenge tests determine which opponant goes "down" for the extended tickle torture.



The infamous contract. No "escape" clause.



Two fun passtimes: "Toe-Wiggling" and "Hide The Note".



Joe devised the diabolical game, and Calvin "did the math", figuring out the odds.



Rules for a proposed grappling match.



A new use for your old set of dominos.



A challenge for an interrogation game.



Rob relates his experience as a "contestant" at a real-life MTMTN gathering.



Ratty shares some of his best tickle games. Is he really throwing these away? Quick! Someone send him some new ones!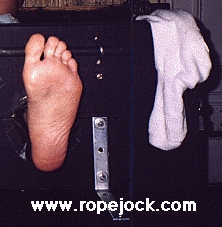 ---
If you enjoy the authors' work, drop them a line.
They would love to hear from you!
---
e-mail: webmaster@ropejock.com
www.ropejock.com