Jack's Male Tickling Rack
Tickle

Initiations
---
One of the all-time top fantasies is to be
subjected to tickle torture by your
Frat brothers during a hazing ritual.

Or, to be the Pledgemaster,
in complete control of a
roomful of half-naked,
quivering freshmen.

There are many classic Initiation stories.
Here are a few of the best,
plus a real-life account:
In this classic story of fraternity hazing, Pledge Mark goes through Hell, but takes it like a real brother. The original story, exactly as written.



A true story. Former frat brother R.J. recalls his role in initiating a young jock pledge in a hotel room.



A high school Key Club hazing prank leaves the kidnapped victim bound and helpless. Stumbling upon the scene, some long-overdue revenge is meted out by the author.



There are other ways of breaking down a big, tough pledge besides paddling...



As part of an initiation rite, the author must present himself to all the members of a private club, to be tickled at their whim.



Another kind of "initiation". Two young siblings are caught horsing around. As punishment, they are introduced to the rigors of bondage, tickling, and forced j/o.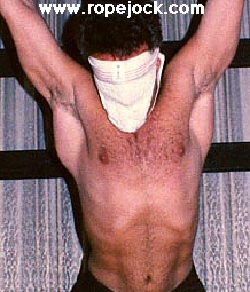 ---
If you enjoy the authors' work, drop them a line.
They would love to hear from you!
---
e-mail: webmaster@ropejock.com
www.ropejock.com