Jack's Male Tickling Rack
Tickle

Wagers
---
Gentlemen, place your bets...

Ever wonder how to introduce a tickle torture session to a buddy?

Especially a straight buddy, who might seem unapproachable?

Simple answer: BET THEM.

If a guy has any kind of competitive streak in him, he will usually take you up on a bet or wager.

Just hanging out, horsing around, drinking beers, playing cards, and challenging each other, can lead to some interesting wagers and punishments.

Here are several stories about guys who lost a bet. Most of them are true:
D's friend Mike loses a bet, and gets tied to a lawn chair for some extensive tickle punishment.


A true story about tuff-guy roommate Rick, who loses a bet and gets tied down to a board and worked over.



It's D vs. Mike again, in another wager. This time, Mike loses a race on the campus track, and has to face the music on the job, in a very public place.



Another true account of a wager between roommates. Zack loses at dice, and suffers through some prolonged bondage and armpit-tickling. Why are some guys so stubborn? They never learn...



Finally! D's turn to get tied and tickle tortured, with some inventive bondage and major discomfort. Gee, don't you hate to see HIM suffer for a change?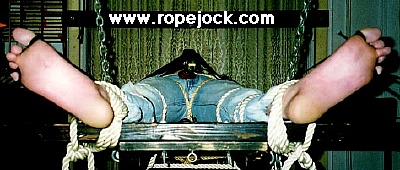 Roommate Rick paying up
---
If you enjoy the authors' work, drop them a line.
They would love to hear from you!
---
---
e-mail: webmaster@ropejock.com
www.ropejock.com